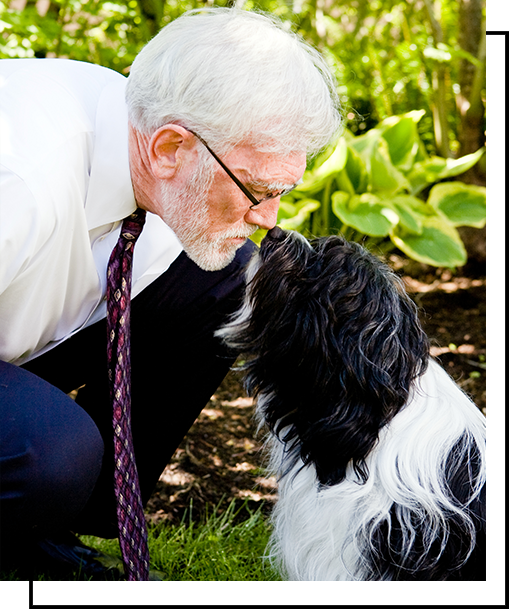 "After hearing your message, I know that my dreams can become reality. Anything and everything is possible."
Meet Dr. Larsen
As a young farm boy growing up in Southeastern Idaho, Brad Larsen had no idea that he was learning life lessons that would have such a profound impact on his future life. The lessons of hard work, optimism and creativity, have served him well not only as a husband and father, but also as a professional, business man and civic leader.
After college, Brad was accepted to dental school. He and his new bride, Cindy, set out on an adventure that promised to reward their hard work with a rich and fulfilling life. But at the beginning of his second year of dental school and six month after the birth of their oldest son, Cindy was diagnosed with Multiple Sclerosis. At the time, treatment options were limited. Cindy was told that she would probably live 20 years or less. Being young, that dire diagnosis didn't register as something they needed to concern themselves with, so they went about confident in the promise of a rich life and in time adding three more sons. Their confidence paid off as they have lived a life that has been beyond just normal but one that has been remarkable.
As a dental student, Brad dreams of having his own practice. In 1979, Dr. Larsen moved his young family to the Pacific Northwest to establish his own practice. One year after beginning his practice, an event that was felt around the world occurred that could have destroyed the dream. Mt. St. Helens erupted, devastating the local economy. Using the lessons of his youth, hard work, optimism and creativity, his practice flourished. The small practice that he started in the basement of the local optometrist grew to be one of the premier practices nationwide.
Dr. Larsen believes that by applying the lessons of hard work, optimism and creativity, all of us can live a life beyond our dreams and expectations. He shares the stories from his life that not only entertain, but also inspire and motivate.
Our Mission
I share my personal stories to entertain and inspire my audience to expand their vision and make more life affirming choices.
A Few Of The Highlights
Parents of four adult sons
Grandparents of ten
Successful business leader: from small basement office to a premier dental practice.
Kelso Citizen of the Year
Cowlitz County Citizen of the Year
Boy Scouts of America Silver Beaver Recipient
Lifelong learner and adventurer
MBA age 60
Century rider MS bike age 65
First marathon age 66
First attempt Mt. Rainier Summit age 68